Neuromodulation Therapy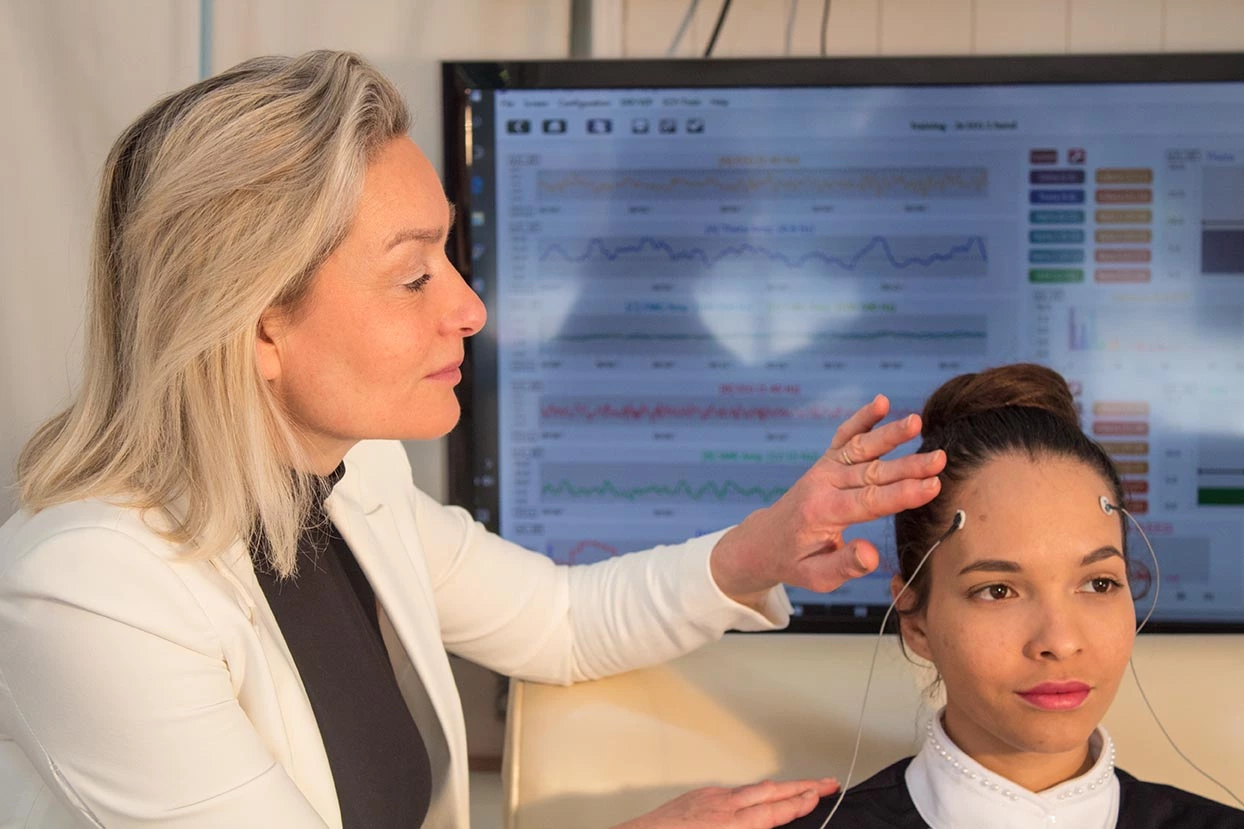 The Mind&Body Performance Center of the Institute for Neurofeedback and Biofeedback (I-NFBF) offers micro-current neurofeedback (MCN) treatment, a gentle and highly efficient and scientifically proven method of ''direct'' neurofeedback. The I-NFBF is currently the only institution in Europe that uses MCN according to the same protocol as the research team led by Dr. Huang at UCLA University in San Diego / USA in her sustainability study. Instead of audio, audiovisual, or vibrotactile feedback, the micro-current neurofeedback gives very gentle current impulses to regulate brain activity.
The MCN (MICRO - CURRENT - NEUROFEEDBACK) has been proven to help with the following indications:
EADHD / ADS & learning difficulties

Developmental disorder

Reduced concentration & motivation

Chronic fatigue syndrome & burn-out

Anxiety disorders & panic attacks

Autism

Dementia / reduced memory

Brain fog

Chronic Pain

Cognitive deficits after stroke

Concussion, TBI

Emotional & behavioral problems

Depression / impulse control problems

Insomnia

Fibromyalgia / chronic pain

Lyme disease

Autoimmune dysfunction

Migraine/Headache

Stress-related disorders

Tinnitus

Eating disorder
All of the above indications have a common cause: Brain activity is caught in a stress-related, unhealthy, dysfunctional, and energy-intensive pattern of thinking and behavior on retracted nerve tracts (suboptimal homeostasis). Most of the time, the brain is unable to free itself from this condition.
This is exactly where the MCN neuromodulation therapy comes in: Electrodes are put on your scalp hooked to the MCN treatment system. Your brain activities are detected by the EEG sensors of the MCN-system. The signal is analysed by the MCN-system. If dysfunctional patterns occur in your brain activity, the MCN individually calculates a minimally small energy pulse in real-time and sends it back to your brain through the same EEG sensors (transcranial microcurrent excitation). These homeopathically small microcurrent pulses (pico-volt) interrupt your brain wave patterns. Hereby your brain recognizes its dysfunctional patterns and re-orientates itself by defining new neural pathways.
MCN permanently frees your brain from dysfunctionalities. MCN stimulates natural neuroplasticity. Your brain will restart for more mental health, well-being, willingness to learn and top performance.
You will experience increased relaxation, relief, mental clarity, calmness, and life energy during your first MCN sessions. This learning process is repeated in several MCN sessions. This will calibrate and stabilize your brain sustainably. Your symptoms gradually recede over the course of therapy and you can fully perceive your life again.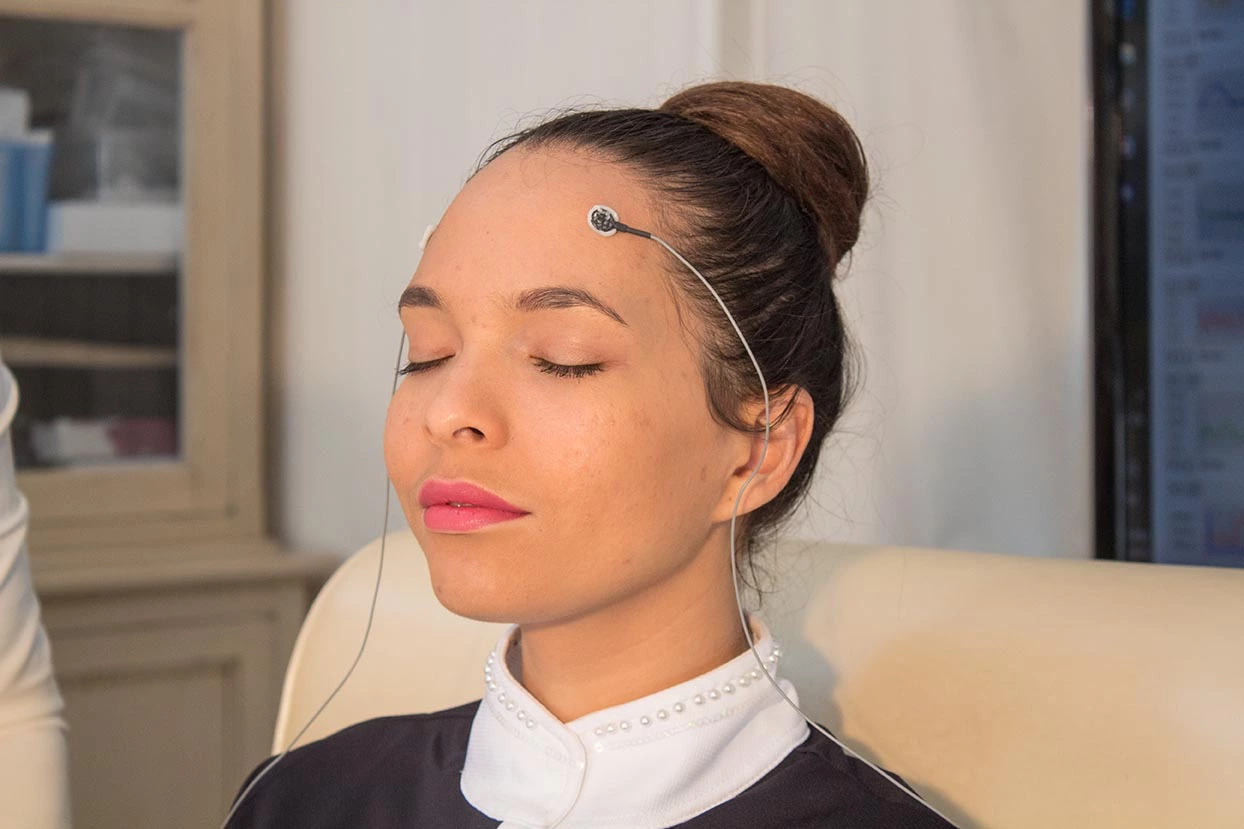 The most common patient questions are listed below:
WHAT IS UNIQUE ABOUT MCN?
Treatment does not require active patient involvement. With MCN, you can simply relax during treatment. A small signal sent to the brain does all the work for you.
WHO CAN BE TRAINED WITH MCN?
There are no complaints, no age, no medication, allergies, etc. that would limit the safe use of MCN.
HOW LONG DOES MCN TRAINING TAKE?
The training as well as the analysis session last no longer than 60 minutes.
IS MCN TRAINING SAFE?
The non-invasive MCN system we use uses a FEG-registered EEG amplifier and is extremely safe. The microcurrent induces only three billionths of a watt (homeopathic dose).
ARE THERE ANY RESTRICTIONS ON MCN FROM TAKING MEDICATION?
No. On the contrary, after successful MCN training, prescription medication can often be reduced or discontinued with the consent of your doctor.
ARE THERE SCIENTIFIC RESULTS ON MCN TRAINING?
The University of UCLA in San Diego, USA, examined the MCN training in a study. Another double-blind, four-year study started in 2017 is funded by the United States government. Both studies prove the effectiveness and the second study additionally the sustainability of MCN.
DOES MCN TRAINING HELP ME?
Give Dr. Eva Otzen of the (I-NFBF Mind&Body Performance Center a call and arrange a free consultation without obligation. Call 0041 78 7141415 or send an email: [email protected].