Research
The Institute for Neurofeedback and Biofeedback has participated in two different research projects:
"BAUD assisted Neurofeedback\" with Dr. Frank Lawlis and the Lawlis Peavey PsychoNeuroPlasticity (PNP) Center / USA"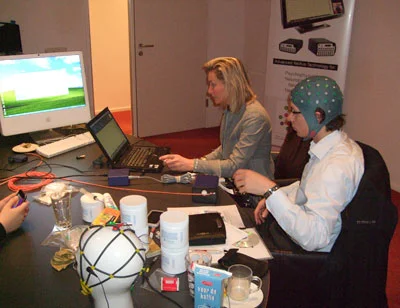 In June 2009, Dr. Eva Otzen-Wehmeyer the opportunity in a research project by Dr. Frank Lawlis, the inventor of the Bio Aucoustical Utilization Device (BAUD). Dr. Lawlis (psychologist, neuroscientist and founder of the PsychoNeuroPlasticity (PNP) Center) works with neurofeedback therapists in the United States and Europe to test the effectiveness of the newly developed BAUD in conjunction with neurofeedback (Baud-supported neurofeedback). In this way Eva Otzen was able to successfully treat around 60 clients with the BAUD between June and December 2009.
Dr. Lawlis demonstrates the application of the BAUD in dealing with depression, by courtesy of www.mybaud.com
For more demonstration of BAUD applications in smoking cessation, depression and phobias, visit: Media Center the Baud
These interesting insights and experiences from working with Dr. Lawlis I am happy to pass on to interested therapists and private individuals (contact: [email protected]). The following PDF gives you important preliminary information before you obtain further information directly from the manufacturer at www.mybaud.com.
Download PDF
Zurich Neurofeedback Symposium
Summary of the Zurich Neurofeedback Symposium 2009 by Marie-Helen Lüchinger-Frey, psychologist lic.phil.I, neurofeedback therapist. www.brainbalance.ch
Download PDF
Scientific publications
compiled by Dr. Gaston from Glutz
Recent publications on neurofeedback:
ADS

Anxiety and PTSD

Autism

Depression

Head Injury

Chronic Pain
Download PDF
An extensive bibliography and further studies can be found at: www.isnr.org/ComprehensiveBibliography.cfm
Research aid project Lebanon
The Institute for Neurofeedback and Biofeedback actively supports an aid and research project that started in January 2009 in which the effectiveness of neurofeedback in war-traumatized children, adolescents and adults is to be demonstrated. Current information on the aid project and the case study can be found at libanon.php and in the following PDF file.
PDF German version
PDF English version
Katherine Ellison's report in the Washington Post
Pulitzer Prize winner Katherine Ellison reports in the renowned Washington Post about the many uses of neurofeedback. Ellison also reports on a study on neurofeedback, which is being funded for the first time by the state NIMH (National Institute of Mental Health).
Washington Post article
Doctoral Thesis Research Project of Christian Kurmann (MBA Stanford University) at Columbia University, New York, U.S.A.
Topic: QEEG analysis of indigenous peoples of the world
In this field study brain waves of the last indigenous peoples on planet earth from regions: in South America, Africa, and Asia are measured and analysed.