Your Benefits of the Institut for Neurofeedback and Biofeedback Professional Training Center

You will receive well-founded theoretical and practical training from proven experts (usually lecturers with at least one university degree and specialization in the respective field).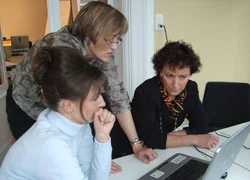 Your tutorial is based on latest research findings from the field of neurosciences and is conveyed comprehensively and professionally.
You learn on a logically structured program, are supported by a team of lecturers and ample course documents, so that you will achieve the training goals succesfully step by step to graduation.
You are introduced to all high standard current NF / BF and HEG systems as well as as to all classic linear and dynamic non-linear neurofeedback methods. On this basis you decide for yourself which system is best tailored to your way of therapeuthic work and the needs of your patient / client.
You will be trained practically on your own NF / BF system in internships / workshops with supervision.
You will receive valuable advice on how to lead your practice and on how to psychological interact with patients/clients. So, you are specifically prepared to run your own NF / BF practice.
A repetition of all the key elements of the one-year program takes place three weeks before the diploma examination, so that you can prepare yourself well for the diploma exam in a focused and stress-free manner.