Simulated High Altitude Training (IHHT cell training "CELLGYM")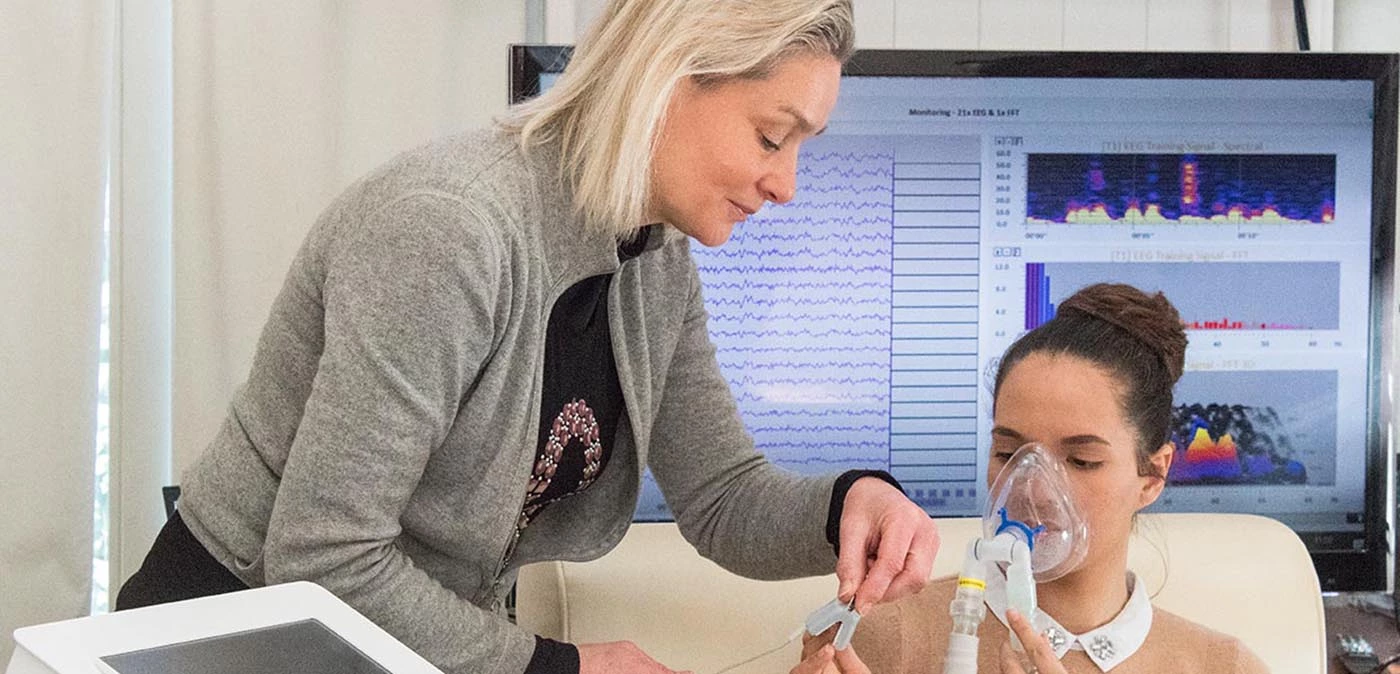 Simulated altitude training is a revolutionary method to quickly and lastingly regain vitality with strong curative and protective effects which astronauts and high-level athletes swear by it!
Would you like to feel more vital energy again, rejuvenate, lose weight, improve your cellular metabolism, strengthen your immune and cardiovascular system?
At the Mind&Body Performance Center of the Institute for Neurofeedback and Biofeedback (I-NFBF) we offer you scientifically proven therapy to optimize your biochemical process of cellular energy production. It is a new method to start a process of cellular regeneration and natural processes of self-healing of the body by breathing.
The simulated altitude training is a non-invasive, painless therapy, without physical effort, durable and safe assisted by advanced bio- and neurofeedback devices medically certified. During a simulated altitude training session (which lasts approximately 45 minutes), the patient is in a comfortable and lying position and inhales air through an air mask. The oxygen content in the inhaled air varies: intervals of 3 to 5 minutes with a reduced oxygen content (9-14%) alternate with intervals rich in oxygen of 3 to 5 minutes (36%). The time and amount of oxygen parameters can be changed manually on the device by the therapist before and during a simulated altitude training to optimize the effects of individual therapy. The oxygen saturation in the blood and the heart rate and if necessary the EEG are continuously monitored by the experienced therapist. A simulated altitude treatment usually includes 10 to 12 sessions to achieve lasting results. In addition, in the supine position, the patient learns to optimally apply his respiratory muscles and experiences a feeling of maximum relaxation from the first session! This method has many positive effects, including improved mental and physical efficiency, greater stress tolerance, and increased well-being and mood.
Compare simulated altitude training with cell endurance training which results in increased performance in the cell. The mitochondria inside cells play a key role in this.
Simulated altitude training is very popular in sports circles, especially among endurance athletes. The best athletes have been using simulated altitude training to improve their performance for several decades as it protects the body against degenerative diseases and helps cellulite to regenerate faster.
Positive observations that have been repeatedly confirmed by users of simulated altitude training and described in the scientific literature include:
less fatigue

decreased breathlessness, improved ventilation, strengthened respiratory muscle

more sustained mental focus

better resistance to stress

increased resilience, less nervousness

promotes regenerative sleep

balanced mood, stimulation of happiness hormones (serotonin, etc.)

more strength, endurance and energy

increased well-being and vitality

longer endurance (work, sport) and less perception of effort during physical activity (mountaineering / climbing stairs ...)

faster regeneration and recovery (after sport / intensive working hours / illness)

less hunger pangs thanks to improved metabolism

reduction of body pain and tension and optimal relaxation
Training the breathing muscles makes an athlete feel less short of breath (no matter how much oxygen the muscles actually use), which allows you to push harder and run faster. This phenomenon explains an additional therapeutic effect for patients who suffer from respiratory problems or hyperventilation. During simulated altitude training these patients learn to use their lungs optimally, breathe more efficiently and gradually strengthen their respiratory muscles. For this reason, even patients with snoring or sleep apnea problems can also benefit from simulated altitude training. In general, these patients benefit from lighter breathing activity and less snoring and sleep apnea from 4 sessions already.
Contact us for an appointment for your first simulated altitude training session! Either call us on 0041 78 7141415 or send us an email to [email protected].