Classical Neurofeedback (Frequency Band Training)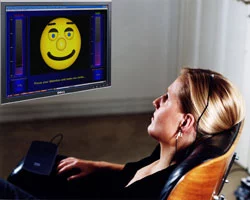 In frequency band training, the patient is informed visually, acoustically or tactilely of the characteristic of the frequency to be trained during the EEG real-time derivation. The derivation is based on the international 10-20 system. It is based on the anatomical landmarks of the skull, the metric spacing of which is the basis for the division of the head surface into a brain-specific grid system.
In this way, it is possible that certain brain frequencies can be trained towards an appropriate and healthy state. The patient's brain learns to assume this state and to hold it for longer with the help of the feedback signal. This improves the patient's ability to self-regulate the brain and self-control of the resulting behavior. This leads to the central postulate of the classic QEEG-based neurofeedback approach, which says that existing dysfunctions (over- and under-excitation, instabilities, etc.) and the symptoms correlate with deviations from the normative database.
The choice of which areas of the brain require training (brain areas) are based on quantitative EEG (qEEG) measurement and stress profile and a detailed anamnesis discussion in which the symptoms are explored.